THANK YOU FOR
ALL YOUR SUPPORT
FOR HELPING US
DONATE TO OSO
MUDSLIDE PETS.
Lisa Bishop and her dog, Cody, from
Northwest Disaster Search Dogs watch
as a Washington National Guard
helicopter flies over the debris field.
Photo by Spc. Matthew Sissel, 122D PAOC
Free Pet Insurance Quote

Your kitty's too precious not to be protected, which is why we cover hurt paws, kidney disease, and most other health issues both big and small.
More on pet insurance for cats


Dogs deserve coverage that's as unconditional as their love. Trupanion insures everything from allergies and ear infections to cancer, diabetes and more.
More on pet insurance for dogs


Trupanion Blog
The Trupanion Blog is a fun way to find out how pet insurance from Trupanion has saved the day for so many dogs and cats – not to mention their owners! It's full of pet insurance facts, real stories and crazy pictures. Read blog

Cat and Dog Wellness
Learn about breed personalities and health concerns in our dog breed guide and cat breed guide, and how a pet insurance plan can help protect your dog or cat.

Why Veterinarians Choose Trupanion - Watch Video

Find out why veterinarians recommend pet insurance. Watch the video

Veterinarians and Pet Insurance

Help your customers provide the best health care with pet insurance from Trupanion. Find out more about how Trupanion works with veterinary hospitals.


We have a great program designed for you! Learn more about our Breeder Support Program.
Register today

Interested in becoming a part of the Trupanion team?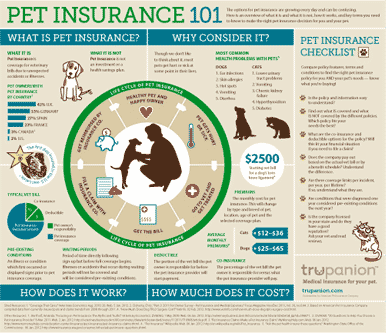 Confused about pet insurance? Not quite sure how everything works? We've put together this infographic to answer all of your questions and help you understand just what your pet needs.
View infographic