Territory Partner
A Territory Partner has a very unique opportunity to educate veterinarians, their staff, and hospitals about how our pet insurance product could be beneficial to both them and their clients. Exclusive Territories Available!
Territory Partner (Exclusive Territories)
Trupanion is seeking experienced, pet passionate people to be Territory Partners throughout the United States. This is a contract position. A Trupanion Territory Partner serves as a consultant to Trupanion and is the exclusive representative for our pet health insurance product within a specified area. Our territories are EXCLUSIVE; we have one Partner per territory. A Trupanion Territory Partner is an independent business owner who earns revenue from Trupanion while helping veterinarians and pet owners provide the high quality care pets deserve. This is truly an opportunity where you can make a difference. You will not only be a significant link between veterinary hospitals and our company, but you will also educate veterinarians, vet techs, and office staff about how having clients who are insured by Trupanion benefits their practice, and the lives of the companion animals and families they serve.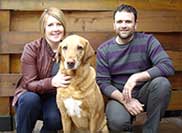 Karen Belanger, Trupanion's first Territory Partner, shares her story.
A Territory Partner will:
Possess a strong entrepreneurial drive, including an attitude of persistence and patience, and be comfortable with sales.
Be a subject matter expert on the animal health industry and day-to-day veterinary hospital operations.
Have a thorough understanding of the entire companion animal medical insurance industry, including the Trupanion Product.
Manage an aggressive sales cycle, while spending time on the road, visiting clinics and vet hospitals within the territory.
Build and maintain relationships with veterinary clinics, hospitals and veterinary staff.
Have experience building a book of business and breaking open a new market/territory.
Desired traits for a Territory Partner:
Be pet passionate and possess a strong belief in our mission to give responsible pet owners the ability to provide the best care for their pet when it becomes sick or injured.
Be financially comfortable with a long-term recurring residual revenue model.
Preference given to those who understand the inner workings of veterinary clinics.
Experience in field sales, territory development, and building a business a major plus.
Territories and Markets Currently Available:
Full-Time

Dallas, TX
Oklahoma City, OK
San Antonio, TX
South Houston, TX
St. Paul, MN
Tulsa, OK
Kansas City, KS, MO
St. Louis, MO
Orange County, CA
Vermont
Phoenix, AZ
Charlotte, NC
Hartford, CT
Philadelphia, PA
Green Bay, WI
Milwaukee, WI
Grand Rapids, MI
Detroit, MI

Cleveland, OH
Columbus, OH
Toledo, OH
Louisville/Lexington, KY
South Bend, IN
Montreal, QB
Pittsburgh, PA
Indianapolis, IN
Birmingham, AL
Jackson, MS
Memphis, TN
Mobile, AL
New Orleans, LA
Orlando, FL
East Atlanta, GA
West Atlanta, GA
Nashville, TN


Part-Time

Fresno, CA
Quebec City, QC
Click the button below to Apply in your area:
About Us
The Trupanion Team
Career Opportunities
Partnership Opportunities