Additional Resources
Thank you for your interest in Trupanion!
We appreciate you informing other pet owners about pet health insurance and what Trupanion has to offer. If you would like to recommend Trupanion on your site, please review the images below and click on Get Code ↓ next to the image you like.
Please note, all paid or sponsored links to Trupanion.com must contain the rel="nofollow" attribute. Find more information about nofollow here.
For guidance on how to add Trupanion to your website, please email affiliate@trupanion.com.
Trupanion logos
300x90 transparent png

200x58 transparent png

Trupanion logo for Canada 200x44

Trupanion banners
Deaf pets 200x106 banner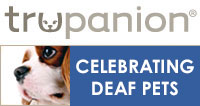 Pet fire safety 200x106 banner
Trupanion videos
Joe's Pack (celebrating deaf pets)
Trupanion's Joe Anderson lives with two deaf dogs, two hearing dogs and two cats. Sounds chaotic, but with patience, love and lots of "happy hands", this family gets along swimmingly.

Trupanion Flyers
Trupanion infographics
Confused about pet insurance? Not quite sure how everything works? We've put together this infographic to answer all of your questions and help you understand just what your pet needs.
Click the image to see the larger version!