Our Social Community
Connect with our Trupanion Pet Community to stay up to date with pet insurance updates, the latest pet news, viral videos, giveaways, and more.
Follow Us, Like Us, Watch Us, and Friend Us
We love pets and we wouldn't be here without you and your furry friends. We welcome you to join our community of paws, fur, wet noses, and stepping on stray pet toys in the middle of the night. Share your stories, pictures, questions, and experiences with us and add your voice to the conversation. Our community looks forward to meeting you and your pets!
Trupanion Contests and Giveaways
Every week, Trupanion has fun giveaways and chances to win gift cards, pet toys, and other special prizes. Follow Trupanion on Facebook and Twitter for details and information on this week's giveaway. Some examples of current and past giveaways include Trupanion trivia, themed photo contests, match the dog to its owner, picture caption contests, guess the dog count, and more!
Refer a Friend
Tell your friends about Trupanion and earn points to get great rewards.* You do not have to be a Trupanion policyholder to participate. Click here for more information.
* Not available in the state of Texas.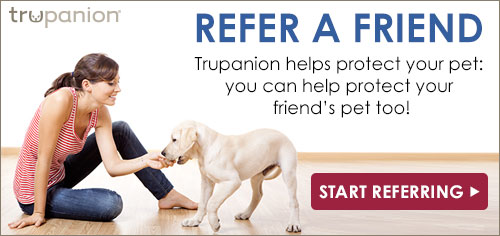 About Us
The Trupanion Team
Career Opportunities
Partnership Opportunities