<
Trupanion Celebrates Pet Insurance Month
|
Trupanion pet insurance is celebrating Pet Health Insurance Month with pet owners and pet insurance policy holders.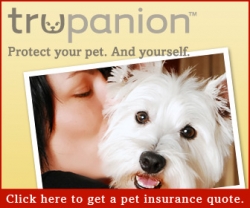 Seattle, WA, September 04, 2009 –(PR.com)– Trupanion, a Seattle-based pet health insurance company, is celebrating Pet Insurance Month this September by encouraging pet owners to spread the word about the value of pet insurance. Trupanion is celebrating by making donations to multiple charities, including one donation where pet owners can help raise the donation level.
Trupanion promises to donate $1 to Noah's Wish, an animal welfare organization, for every added fan of their Facebook page during the month of September. Policyholders and pet owners can join in the celebration by helping Trupanion raise the donation level to Noah's Wish. To learn more about pet insurance, Trupanion encourages pet owners to join the Trupanion Pet Insurance Facebook page (www.facebook.com/petinsurance).
The fact is, every pet has a high chance of facing one or two major healthcare crises during its lifetime, and these incidents can be emotionally and financially draining which is why pet insurance makes so much sense. According to the American Veterinary Medical Association, nearly 60% of all US households have one or more companion animal and spend up to $356 on veterinary visits alone every year.
Pet insurance can provide peace of mind and significant value when pet owners are faced with unexpected high costs for their four-legged companions. "Pet insurance month is a great way to educate pet owners who may have never even heard of pet insurance, as well as stress the importance and value of pet insurance," says Darryl Rawlings, CEO and Founder of Trupanion.
Trupanion is a proud member of the North American Pet Health Insurance Association (NAPHIA), the coordinator of September Pet Insurance Month, who is also holding two contests to promote pet insurance. To learn more about NAPHIA's contest, visit NAPHIA.org.
Read the full story at http://www.pr.com/press-release/176838