<
PETCO and Trupanion Pet Insurance Partner
|
PETCO Offers Trupanion's Pet Insurance Plans to Help Pet Parents Nationwide Care for their Pets in the Event of Medical Emergencies.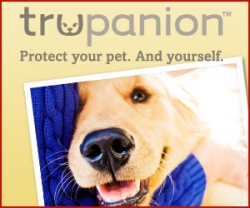 Seattle, WA, October 20, 2009 –(PR.com)– As veterinary technology advances, the cost of veterinary care continues to increase. That's why PETCO, the nation's leading pet specialty retailer, and Trupanion have partnered to provide pet parents a financially sound solution to the high cost of veterinary bills. Together, PETCO and Trupanion allow pet parents to rest easy knowing their pets are covered and will receive the best possible veterinary care in the event of illness or emergency.
Many pet parents today are not aware of the benefits and peace of mind pet insurance can provide and don't insure their pets. In those cases, pet parents are often forced to make difficult decisions when their pets face unexpected illness or injury and the expensive veterinary bills that can follow.
In response to this problem, Trupanion's pet insurance plan allows dog and cat pet parents in the United States to select a policy package that suits their needs. Enrolled pets receive $20,000 of lifetime coverage for diagnostic tests, surgeries and medications if they get sick or are injured with no annual limit. Trupanion openly discloses what is and is not covered and reimburses based on the actual veterinary bill, not on a structured fee schedule. Trupanion won't increase premiums due to aging or medical conditions and has the fastest claims reimbursement times in the industry.
"We strive to provide the products and services pet parents need to give their pets the best care possible and the quality of life they deserve," said Fabienne Mueri, Pet Insurance Services Manager of PETCO "Our partnership with Trupanion allows pet parents to budget for the unexpected, ensure their pets receive the best possible veterinary care in the event of illness or injury, and financially plan for a full, happy and healthy life with their four-legged companions."
"Partnering with PETCO gives us a great avenue to educate pet parents about the importance of pet insurance when it comes to providing quality care for their pets," says Darren DeFeo, Senior Vice President of Trupanion. "We hope more people will choose to insure their pets, preventing the dilemma of cost versus recommended care and allowing the pet to always receive the best treatment possible."
For more information, or to enroll in a Trupanion pet insurance policy, pet parents can visit their local PETCO store or log in on the site. To find a PETCO store near you, visit petco.com.
About PETCO
PETCO is a privately held specialty retailer that provides products, services and advice that make it easier for our customers to be great pet parents. The company operates more than 950 stores in 50 states and the District of Columbia, as well as a leading pet products and information destination at PETCO.com. Its nonprofit organization, The PETCO Foundation, has raised more than $55 million since its inception in 1999 to help promote and improve the welfare of companion animals. In conjunction with the Foundation, PETCO works with and supports approximately 6,200 local animal welfare groups across the country to help find homes for more than 200,000 adoptable animals every year.
Read the full story at http://www.pr.com/press-release/186963