<
Trupanion Raises Pet Insurance Awareness & Money for Charity
|
Trupanion policyholders raised pet insurance awareness and the level of donation to pet rescue charity Noah's Wish to celebrate Pet Insurance Month.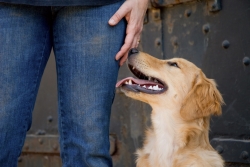 Seattle, WA, October 27, 2009 –(PR.com)– Trupanion, a pet insurance company based in Seattle, is making a large charitable donation to Noah's Wish. To celebrate Pet Insurance Month in September, Trupanion encouraged pet owners to spread the word about the value of pet insurance and help raise the donation level to animal rescue organization Noah's Wish. In addition, the pet insurance company is continuing to spread the awareness of pet insurance by holding monthly prizes and giveaways.
In celebration of Pet Insurance Month, pet owners drove the Trupanion donation level to Noah's Wish. The donation level was increased for each fan that was added to the Trupanion Facebook page in September. Pet owners were encouraged to tell their pet-loving friends to join, learn more about pet insurance, and help raise the total donation. In addition, all fans were encouraged to post and share their pet photos or stories with others.
The mission of Noah's Wish is to save pets during disasters with rescue and recovery services, while mitigating the impact of disasters on pets through educational outreach programs. Noah's Wish maintains a specific focus on prompt and secure response aimed at helping animals during natural disasters. With the donation from Trupanion, Noah's Wish plans to replenish supplies depleted by recent deployments to aid in wildfire disasters.
Each month Trupanion gives away valuable pet related items through various contests and giveaways. This month, all pet owners are invited to enter a contest by submitting a favorite photo of their pet in Halloween attire. Trupanion will randomly draw three winners, who will be announced on October 30th. To learn more about pet insurance or how you can enter this month's contest, visit Trupanion.com.
Read the full story at http://www.pr.com/press-release/188670