<
Pet Insurance Company Emphasizes Enrolling Pets as Early as Possible
|
Trupanion recently repaid large pet insurance claims for a puppy that enrolled just three months ago.
(Vocus/PRWEB ) April 27, 2010 — Pet insurance company, Trupanion, emphasizes the importance of insuring pets as soon as possible. Zackey, a six-month-old English Bulldog puppy who enrolled with Trupanion in January came down with both pneumonia and renal failure, costing his owners over ten thousand dollars. Since Zackey has been enrolled with pet insurance, Trupanion has repaid 90% of his claimable expenses totaling $9,671.68.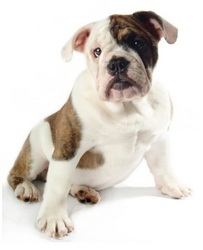 Within the three short months of enrolling with pet insurance, Zackey was diagnosed with pneumonia, costing roughly $1200 for treatment. At the same time, he was also diagnosed with angular limb deformity which may require surgery later in life. Soon after, he was diagnosed with chronic renal failure which has been covered by his Trupanion policy.
Trupanion hopes to spread awareness of pet insurance to pet owners and emphasize the importance of enrolling pets in an insurance plan early on. It is most beneficial to the pet owner to insure pets before any accidents happen or illnesses become diagnosed that may be considered preexisting to the pet insurance policy.
About Trupanion
Trupanion pet insurance offers cat insurance and dog insurance in the United States and Canada. Trupanion is self-underwritten by the American Pet Insurance Company, allowing Trupanion to offer a customizable pet insurance policy with no benefit schedules. Enrolled pets receive $20,000 of lifetime coverage for diagnostic tests, surgeries, and medications if they get sick or are injured with no annual limit. Trupanion's mission is to protect the cherished bond between pets and their families by ensuring that pets are able to receive optimal veterinary care. For more information about Trupanion, call 800-569-7913 or visit http://Trupanion.com

About the North American Pet Health Insurance Association
Trupanion is a founding member of the North American Pet Health Insurance Association (NAPHIA). Founded 2007, the North American Pet Health Insurance Association is committed to educating and promoting the values and benefits of quality pet health insurance to North American pet owners, the general public, and veterinary community. As an association, we are committed to high standards and transparency in all of our actions and products. To learn more, visit the North American Pet Health Insurance Association website at http://www.naphia.org
Read the full story at http://www.prweb.com/releases/trupanion/pet_insurance/prweb3928124.htm