<
Pet Insurance Company Hires Howard Rubin as Chief Operating Officer
|
Seattle-based pet insurance company, Trupanion, has hired Howard Rubin as their Chief Operating Officer.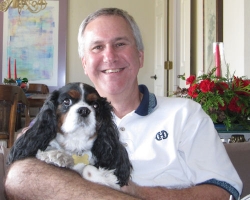 Seattle, WA, May 03, 2010 –(PR.com)– Pet health insurance company Trupanion announces the recent hire of Howard Rubin as Chief Operating Officer for the company. Howard brings over 20 years of experience in the veterinary industry to Trupanion.
Prior to Trupanion, Howard Rubin was the founding Chief Executive Officer of BrightHeart Veterinary Centers, the first national network of specialty veterinary hospitals and advanced-care facilities. Mr. Rubin was also the founding Chief Executive Officer of the National Commission on Veterinary Economic Issues (NCVEI) which was created to improve the economics of veterinary practices.
About Trupanion
Trupanion pet insurance offers cat insurance and dog insurance in the United States and Canada. Trupanion is self-underwritten by the American Pet Insurance Company, allowing Trupanion to offer a customizable pet insurance policy with no benefit schedules. Enrolled pets receive $20,000 of lifetime coverage for diagnostic tests, surgeries, and medications if they get sick or are injured with no annual limit. Trupanion's mission is to protect the cherished bond between pets and their families by ensuring that pets are able to receive optimal veterinary care. For more information about Trupanion, call 800-569-7913 or visit http://Trupanion.com

About the North American Pet Health Insurance Association
Trupanion is a founding member of the North American Pet Health Insurance Association (NAPHIA). Founded 2007, the North American Pet Health Insurance Association is committed to educating and promoting the values and benefits of quality pet health insurance to North American pet owners, the general public, and veterinary community. As an association, we are committed to high standards and transparency in all of our actions and products. To learn more, visit the North American Pet Health Insurance Association website at http://www.naphia.org