<
This fantastic dog treat recipe comes to you by Jen of www.all-natural-dog-treat.com
Gingerbread Dog Treats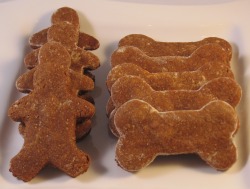 Ingredients:
1 cup molasses
4 tablespoons honey
1 cup water
½ cup vegetable oil
6 cups all purpose flour
2 teaspoons baking soda
1 teaspoons cinnamon
1 teaspoon ground cloves
2 tablespoons chopped fresh ginger or one tsp. of dried powder ginger
Directions:
Preheat the oven to 350 degrees.
Combine the molasses, honey, water, and oil in a medium bowl.
In another large bowl mix the flour, the baking soda, cinnamon, cloves, and ginger.
Slowly add the dry ingredients to the wet ingredients. Combine well. Divide this dough in four sections and roll each piece into a ball, wrap each ball in plastic wrap and refrigerate for 3 – 5 hours.
After the dough is well-chilled Put dough onto a lightly floured surface and roll dough out into 1/4″ thickness. Cut dough with a cookie cutter into gingerbread men or other fun shapes.
Dress Them Up!
You could use carob bits to form the eyes and buttons if you like. Bake 10 – 15 minutes, or until cookies are lightly browned around the edges and firm.
These are great fun for you and your dog. They'll make great gifts for your doggie friends too.
http://www.all-natural-dog-treat.com/Gingerbreaddogtreats.html