<
Running With Dogs in Cold Weather – Coats
|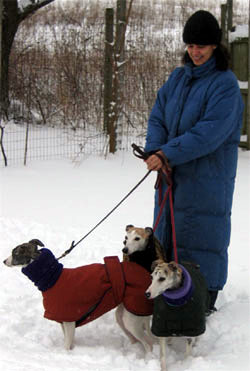 If you regularly run with your dog, nothing is going to stop you from hitting the trails, not even a little cold weather. But it's important to be prepared in advance in order to keep your dog comfortable and happy.
The first and most important item to note is your dog's coat. Some dogs have thick coats and do well in cold weather without any extra clothing. However, dogs with thinner coats and older dogs may need a little extra warmth before going out into the cold.
There is a great variety of dog clothing available on the market today, including knit sweaters, fleece jackets, rain coats, and more. Choose a comfortable-fitting coat that is right for your dog and your weather conditions.Read more about dog sweaters here!
Part 1 of a series of 3, as interpreted from article in USA Triathlon website.