<
Study: Nose Cells Help Paralyzed Dogs Walk Again
|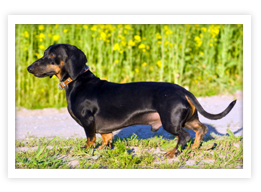 In an interesting article recently posted on ABC News, it has been found that certain dog nose cells can be used to help a paralyzed dog walk again!
Jasper the 10-year-old Dachshund gets around with a cart that supports his back legs because he was injured in a car accident that left him partially paralyzed. He was one of the dogs who participated in a randomized study at Cambridge University in England which extracted a few cells from the dog's nose and injected them into his spine.
After six months of treadmill therapy, Jasper was walking on all fours without the support of a harness. Researchers noted that walking abilities due to nose cells were not completely restored as though he had never been injured, but had definitely improved in the subjects.
You can read more about the study on ABC News.