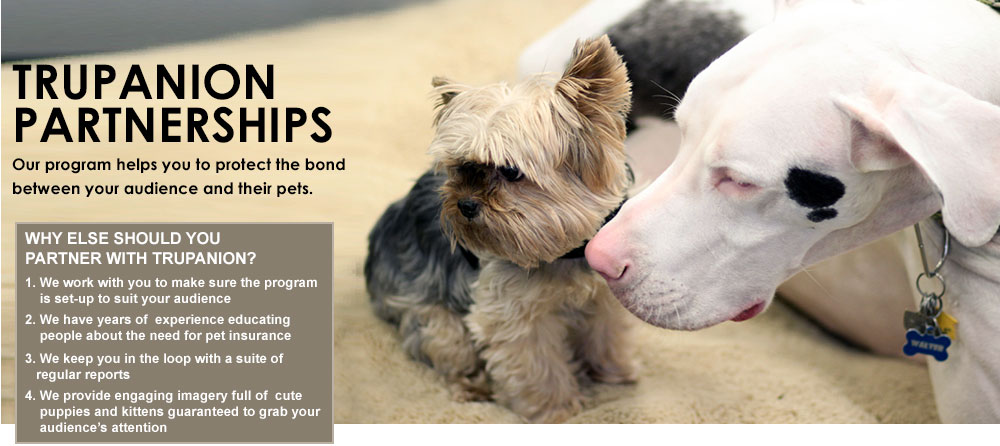 Partner with Trupanion
Trupanion is building partnerships with many of the largest retail and service brands in North America. Add your company to this growing list of organizations dedicated to help protect the bond between people and their pets.
If you are a company interested in a partnership with Trupanion, please fill out and submit the form on the right or contact our partnership team at partners@trupanion.com. You can also call us at 888.624.7173.
What Our Partners Say About Us

"This partnership is a win-win for America's animals. Those who participate in the Trupanion effort to support the Second Chance® Fund are not only protecting the animals who mean so much to them in their own lives, but making it possible to bring life-saving medical services to animals in great need around the country. On bebalf of all the ill, frightened, abandoned, and abused animals who will benefit from their generosity and commitment, we say thank you!"
Dr. Robin R. Ganzert, President and CEO of American Humane Association1

"Trupanion is dedicated to improving the lives of companion animals by providing pet-owners with insurance that provides affordable veterinary care. Seattle Humane is pleased to partner with Trupanion in a relationship that is a win-win for the animals, our customers, and our community."
David Loewe, CEO of Seattle Humane1

"Our users have clearly selected Trupanion as a Pet Health Insurance Provider of choice. Our customers value and appreciate the integrated solutions and added value they provide to their adopters through our PetKey Kennel Management Software. We look forward to delivering even more value to pet owners together."
Blaire G. Hulet, Director of Operations of PetKey1
1 This is an unpaid endorsement.
We Also Work With...
Plus, many more!
Fill out the form to the right, email partners@trupanion.com or call 888.624.7173 to add your name to the list of pet-loving companies above.
More Info
Please fill out the requested information below and tell us a little about your company in the comments section. We will get back to you as soon as possible.