Cost of Claims
In terms of unforeseeable medical treatment, the pet owner with an "average pet" is reimbursed for pet medical insurance claims that may range from 30% to 100% of the lifetime premiums paid over the course of their pet's life. For these pet owners, insurance offers the following advantages and disadvantages.
Advantage:
Pet health Insurance helps to cover the unexpected cost of a veterinary bill, supports the pet owner to make the best choice for their pet regardless of the owner's immediate financial capabilities and aids with the financial discipline of saving for the "rainy" day.
Disadvantage:
The "average" pet owner pays more in pet health insurance premiums than they receive in claims reimbursement over the life of their pet.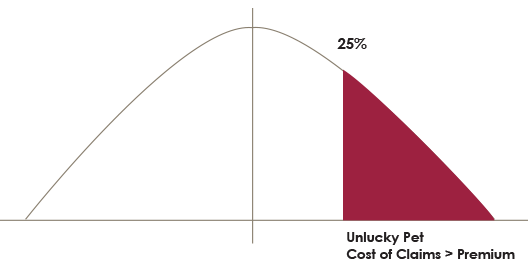 The most compelling financial reason to purchase pet medical insurance is because a pet owner may have an "unlucky pet". An unlucky pet requires more veterinary medical treatment than the "average" insured pet. The area in red represents the approximately 25% of "unlucky pets" in the insured pet pool, whose owners receive over the life of their pet more money back in paid claims than they pay in premiums. A few examples of our claims are:
Charlie, a Golden Retriever, lives a full life and received $7,345 in pet insurance claims reimbursements for two ACL surgeries, an ongoing skin allergy, and a few minor incidents. Charlie's owner paid $4,752 in premiums over the pet's life.
Deja, a German Shepherd, lives half her expected life span after battling cancer. Her owner received $11,765 in claims reimbursement while paying out $1,023 in pet medical insurance premiums.
Java, a young kitten, dies tragically after a severe trauma. Her owner received $976 in claims reimbursement while paying $99 in premiums.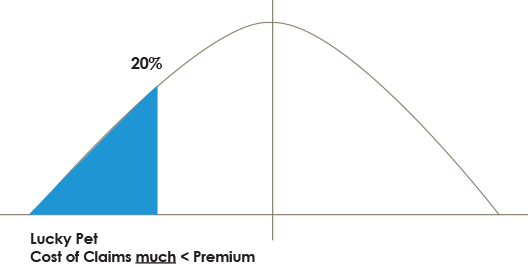 All pet owners should hope that their pet is considered a "lucky pet". A lucky pet is one that requires very little medical treatment over the course of their life (statistically far below the "average" insured pet). The area in green represents the 20% of "lucky" pets whose owners receive little or no reimbursement of claims over their pet's life. "Lucky" pets help subsidize the "unlucky" pets. A few examples of our "lucky" pets are:
Lola, a Labradoodle, lived 13 years and only had three claims for a recurring eye infection. Her owner received $346 in claim reimbursements and paid $5,952 in premiums.
Dixie, a domestic short hair cat, lived 16 years and never made a single claim. Over 16 years, her owner paid $3,648 in pet insurance premiums.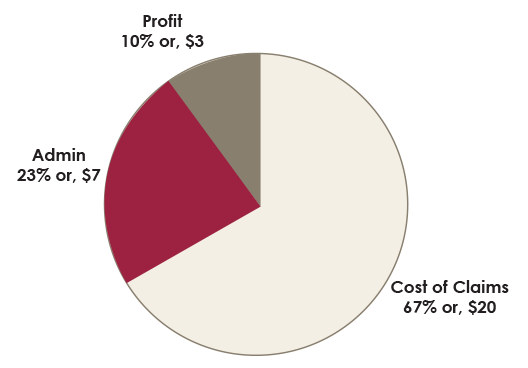 This is how a pet owner's monthly premium should break down if the pet insurance company believes the pet's well-being is paramount. The above chart represents the optimal allocation of the pet owner's premium associated with an "average" pet if the cost per month is $30. (The cost of claims in this example is $20 (67%), the administration cost is $7 (23%), and the profit is $3 (10%).
The larger the "cost of claims" (blue) compared to the "administration cost" (red) the better the value proposition is to the pet owner. Ultimately, the value proposition is what creates peace of mind. As outlined in the examples above, an "unlucky" pet such as Charlie may have a cost of claims of 245%. In the case of a "lucky" pet, such as Lola, the cost of insurance may be 11% of the total lifetime premium.
To the pet owner, "cost of claims" is the true financial value of pet health insurance.
How does a pet owner get good "value" from their pet insurance?
Choose a plan that has a large group of responsibly minded pet owners whose pets have a similar risk of requiring veterinary medical treatment over the life of their pet.
Choose a provider that has a "reasonable profit".
Choose a company that operates with efficient administration costs.
Pet Insurance Resources
Reference Guide