Rising Costs of Veterinary Care
Increasing Popularity of Pet Insurance
An indicator to the increasing popularity of pet insurance is in large part due to veterinary technological advancements and the rising costs of veterinary medicine. Based on the Bureau of Labor Statistics veterinary services have risen an estimated 79% from 2000 to 2010 and veterinary fee inflation has averaged 5.6% per year since 2000.1
1Bureau of Labor Statistics, US Department of Labor, Consumer Price Index, 2000 and 2010 editions.
Veterinary inflation is not the only cause of increased veterinary spending and an increased need for pet medical insurance. More technological advances, once reserved for humans, are now becoming widely available for pets. Items such as CAT scans, MRIs, organ transplants, pacemakers, radiation therapy and chemotherapy are amongst a rapidly growing trend in pet healthcare. Most recently, some hospitals have even started offering canine bone marrow transplants running at $15,000.
As shown below, most veterinarians feel that veterinary costs are rising too quickly for their clients, thus increasing the appeal for pet health insurance for both veterinarians and pet owners.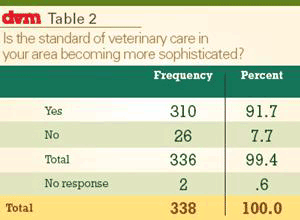 In a study done by the American Veterinary Medical Association (AVMA) pet owners spent $24.5 billion on veterinary medicine in 2006 which is more than double what was spent 10 years prior.2
2US Pet Ownership & Demographics Sourcebook. 2007. American Veterinary Medical Association.
Below is a sample chart of claims paid by Trupanion:
| Treatment | Cost |
| --- | --- |
| Ingesting foreign body | $7,552 |
| Stomach bloat (GDV) | $13,526 |
| Acute liver failure | $5,767 |
| Seizures | $1,605 |
| Hit by car | $9,560 |
| Cruciate ligament tear | $5,439 |
| Vomiting and Diarrhea | $1,767 |
| Cancer (sarcoma) | $5,351 |
| Broken leg | $3,856 |
| Ear infection | $4,253 |
| Stick lodged in between molars | $1,656 |
| Diabetes | $8,550 |
Pet Insurance Resources
Reference Guide